Practice Body-Mind Awareness
We already know the benefits of a Yoga practice. However, we overlook the simple body mind connection whilst trying our best to fit into unknown positions; as a result operating through reason and logic on the mat. Though we complete our practice feeling relaxed – the opportunity to stay present during those uncomfortable moments remains untapped.
Come experience a deeper connection to your true worth!
In this class each asana and awareness practice will be an inward process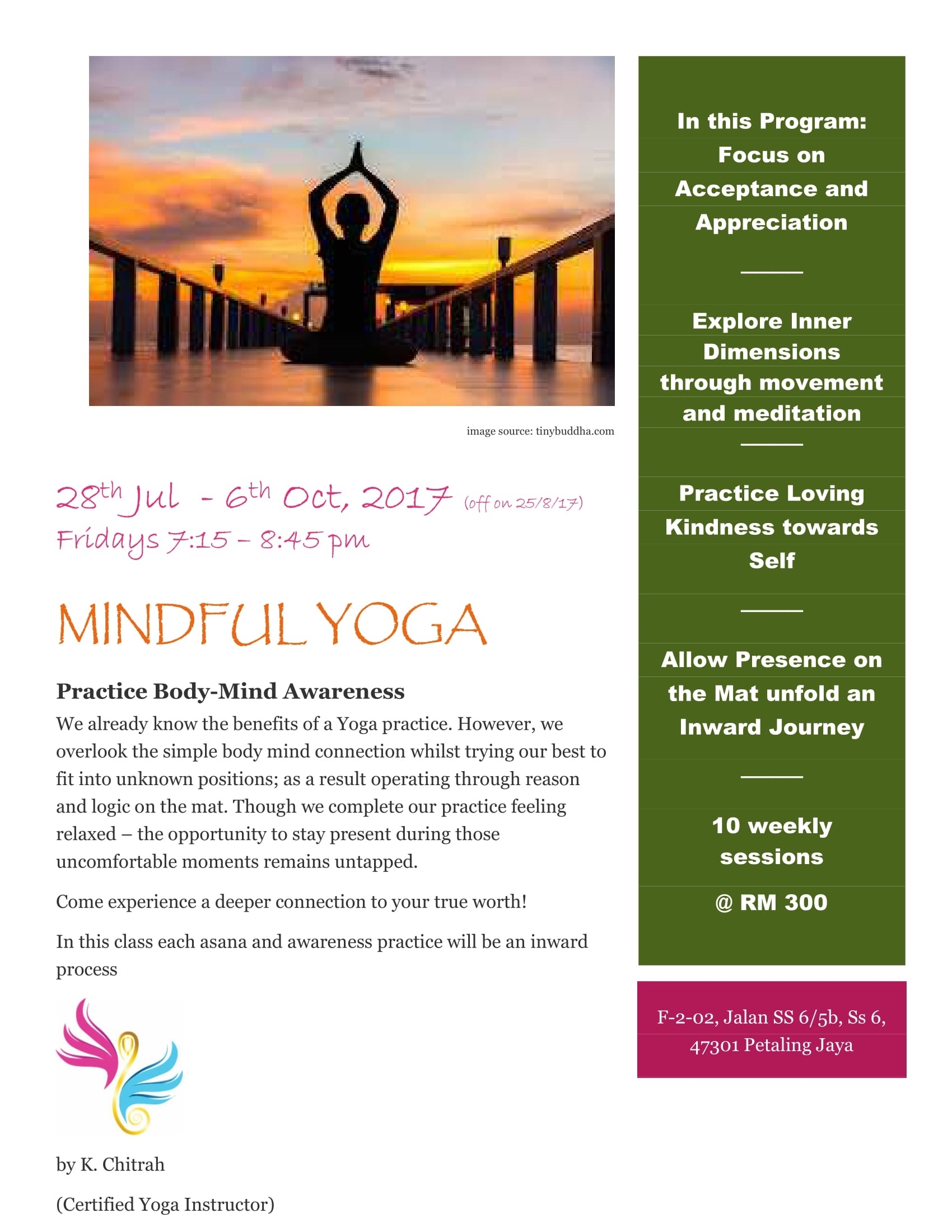 In this Program:
Focus on Acceptance and Appreciation
Explore Inner Dimensions through movement and meditation
Practice Loving Kindness towards Self
Allow Presence on the Mat unfold an Inward Journey
A foundation in Psychology taught attention to detail, critical analysis, and a sound foundation in academic reasoning. THOUGH it provided many an adventurous academic exploration – A FUN ONE TOO -HOWEVER, it still came up short in life skills; and left a nagging sense of incompleteness within.
And so began Phase II of life into a decade of exploring yoga, meditation, hypnosis and self-realisation; which has offered an enriching LIFE EXPERIENCE to say the least.
Having a passion for writing and creative expression, came INSPIRATION in the ordinary.
Having a keen mind for self-enquiry, gave balance through MINDFUL LIVING.
Having practiced dance, yoga and a passion for healthy living – have truly read, researched and explored the body in most unique ways, and have a greater appreciation for this organic vessel that takes us through life.
In the adventurous exploration of it all – was an amassing a great number of experiences, skills, life lessons, and nice "TRICKS" that have been great life hacks.
It has been a blessed life, and having received tremendous lessons and gifts – it is a wonderful opportunity to share some of these LIFE TRICKS and HACKS to joyful living
Hope to be inspired by some new ones as we go along, AND watch as WE expand on these through a ripple effect.
And Yes, an Internationally Certified Yoga Instructor!