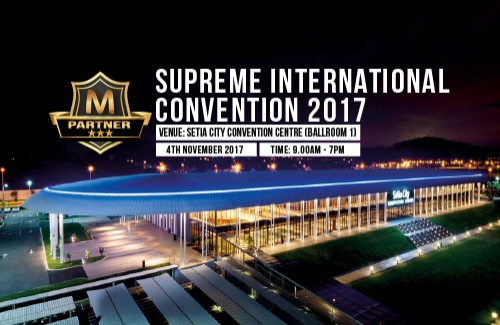 Supreme International Convention
by CDI
SUPREME INTERNATIONAL CONVENTION is the must-attend event for all serious and committed M-Partners who aspire to achieve their Time & Financial Freedom by 2018.
As the first global pioneer and most in-depth M-Partner training event in the world, this event brings you an all-star lineup of million-dollar earners, industry experts, and personal development mentors led by the Founder & CEO of MindAppz, 6 Figure Earner & A Self Made Millionaire K.Thinesh Kumar.
You'll get expert advice on growing your business and entrepreneurial skills as well as hear personal experiences of some of the top leaders in the profession. Join us, and we promise you will gain tons of new information and strategies to push you towards success!
This event will be the largest training event of its kind in E-Commerce powered by Network Marketing history with close to 1000 people in attendance at the Setia City Convention Centre.
This is a compulsory event if you are serious and committed about building a successful future for yourself and the people around you.
See You At Setia City Convention Centre on November 4th 2017!!!
Josephine Chin

Awesome event !
Alwin Kuan

Awesome event!
Elsie jimar

very awesome event!!!
Raynold Thomas

I was there! Will be attending this year's event!
Deisyka VSI

Tq CDI..i been there with my team!
Sheila Wong Yen Min

The Convention was excellent and I learned a lot of skills to be used to improve my business.
Emilda Sanda

Because this convention gave me knowledge of Mindappz and I enjoyed the convention!!