Personal Wellness Coaching in 90 Minutes!
If you are just interested to find out how you can stay healthy and be active as you grow older, than we can help you. In fact, if you are concerned about your health and you are interested to find out how you can lose weight or gain weight or even maintain your weight, we can help to guide you!
We provide personal wellness coaching in 90 minutes services in Klang Valley area.
Our session will be based on your goals and what you want to achieve. Book a session with us and we can help you with the following:
1. We will do a personal wellness test for you where we will get your body's 8 important readings using our scanner which includes:
Weight
% body fat
% body water
Muscle Mass
Base Metabolic Rate (BMR)
Bone Mass
Metabolic Age
Visceral Fat
2. We will provide you with a consultation based on your readings on what you need to do to help you with your goals to stay healthy and active.
3. We will provide you with a nutrition and meal plan to guide you to help you meet your objectives.
4. We will offer you solutions and programs that you can consider to meet your goals.
Our sessions is ONLY 90 minutes.
BOOK a session with us.
BONUS - YOU can have up to TEN (10) people to join in a session.
RM 300 FOR 10 PEOPLE IN ONE SESSION!!!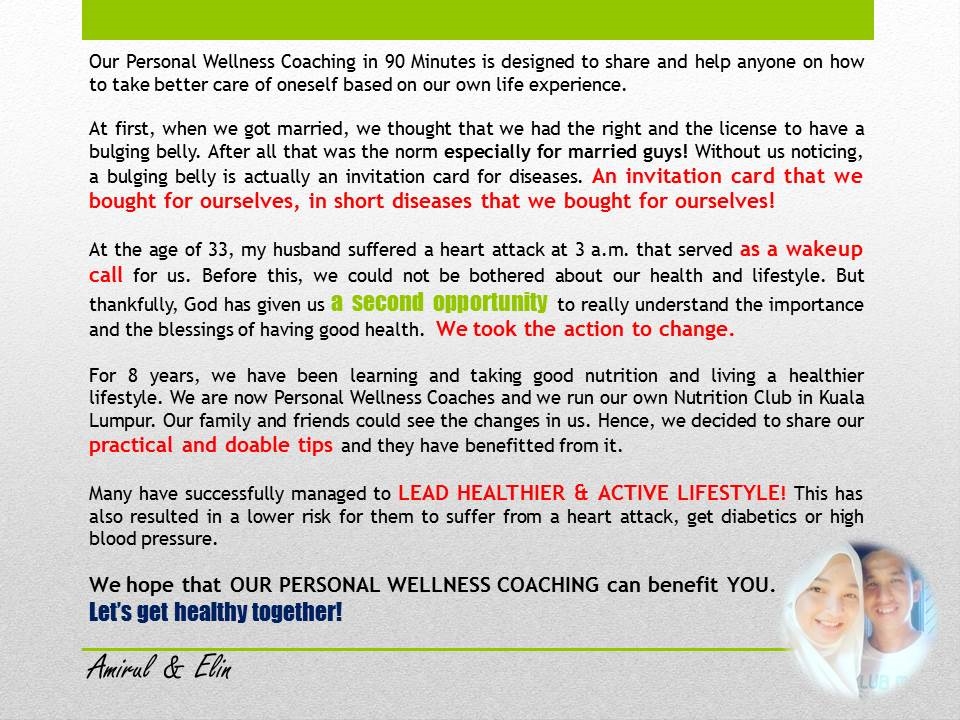 Our sessions is ONLY 90 minutes and the best part is that each session is up to 10 people maximum and we can do it at your place.
At the end of the session, our goal is to provide and share with you the information and knowledge that can help you make better decisions to lead a healthy and active lifestyle. The most important thing for us is that we want you to love yourself and take better care of yourself.
We are certified Nutrition Center operators with more than 7 years of training and experience in nutrition. We have been trained locally here in Malaysia as well as abroad in Singapore and Thailand. We ourselves are a result personal wellness coaching! We have transformed our lives by making a decision to lead a healthier and active lifestyle.
For myself (Amirul), I am a result of personal wellness coaching. I used to be overweight and low energy but with proper guidance and strong determination I have managed to lose 12kg of my body weight.
Now we run and operate our own Nutrition Center where we help people on a daily basis by educating and sharing information and knowledge on proper nutrition, good eating habits, daily water consumption, healthy breakfast, low GI diets, ensuring enough daily protein intake, the good & bad fats, how to read food labels, the importance of exercise and how to lead a healthy and active lifestyle. To date, we have helped more than 200 people with their health goals.
We are passionate about health & nutrition and we hope that we can help more people to change their lives!